Now the One I have is the MSG200, they also offer MSG100 which only controls one garage door & there is MSG100HK that also controls only one garage door but is compatible with apple home kit. At the back there are the technical specs like the input volts, dimensions, power cord length, wireless standard an important point to mention over here is that it has wifi 802.11 at 2.4Ghz so a 5Ghz wifi connection will not work. It requires ios 9 or higher or android 4.1 or higher. Now in terms of price this is available on amazon for 45USD the other models that I mentioned like the MSG100 is slightly cheaper for 32USD & the MSG100HK is for 50USD but as I mentioned earlier, they only will work for a single garage door. So, I will recommend this one especially if you have more than one garage door opener. I would personally recommend these garage door openers vs the wireless Garage door keypad as I find these are more secure then the keypads & secondly, they cost about the same. Keep in mind if you want to connect more then one garage door you need to purchase the Garage door opener remote accessories which costs only 15USD but this will provide you with an extra sensor kit to connect your other garage doors. Now the prices that I mentioned may change at the seller's discretion so please don't quote me on that. But either way the price is reasonably affordable as I have the lift master Security 2.0 and If I were to purchase the OEM WiFi opener kit it would cost me about 150USD so I personally would still prefer this.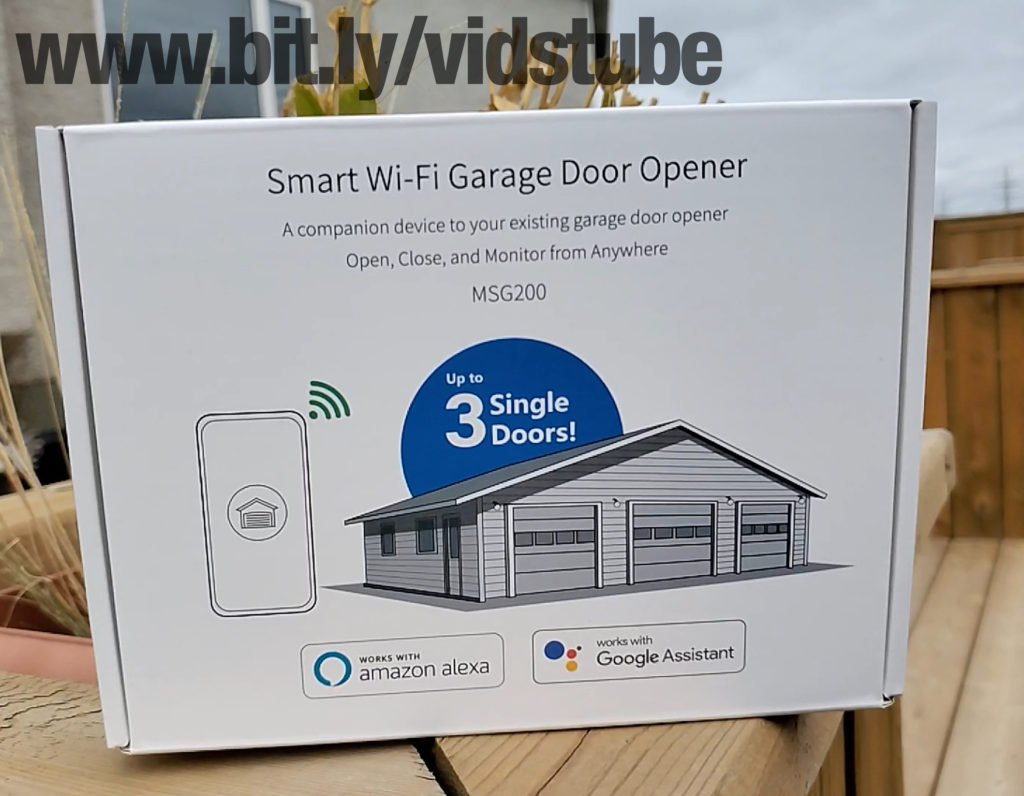 So, in side the box there is the WiFi garage door opener itself, The user manual, the charger & an included garage door sensor kit for one garage door, with double sided 3M tape, Zip tie, screws & a Test Wire. Now the device itself is very tiny its smaller than the previous iteration MSG100 & its very light weight you can barely feel it in your hands – It has a nice strong swivel WiFi antenna – At the back there is a micro usb charging port & Three ports to connect your three garage doors In my case I only have one Garage door so I will just need one port, there is a Rest button which – if you press & hold for 5 sec it will enter the WiFi Configuration mode.
Now you can check if your current garage door opener is compatible with this Meross Smart opener from the Compatibility Table which is quite versatile & broadly compatible.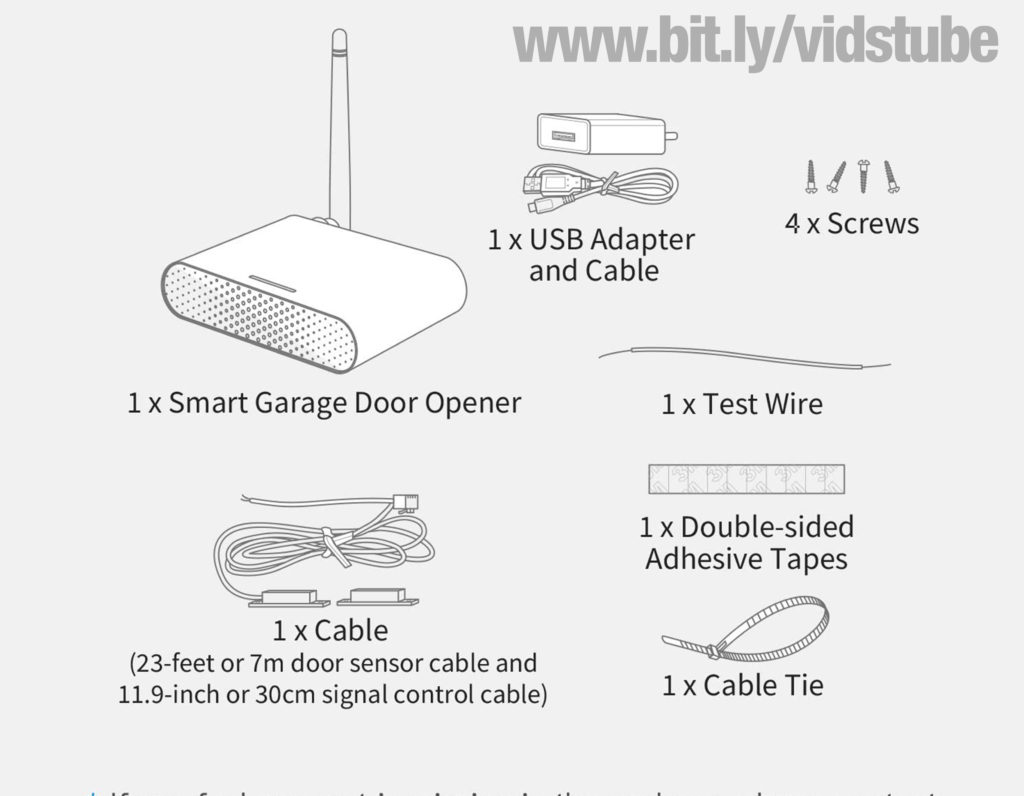 Before I go ahead & show you how to setup via the remote control duplicator let me briefly show you how to setup this Meross MSG200 to your Apple home so that I can control it via SIRI – The process is very self explanatory you can start it from the Meross app where it will prompt you to power up the Device when you click next the light on the Meross device should blink after which it will prompt you to connect the device to a wifi network – on an android device make sure you set it up to a 2.4gh network but on an IOS device which is in my case you will see the Meross MSG device which will prompt you to Add it to Apple Home & you will be instantly prompted to scan the barcode to add this accessory – Apple home will identify the garage door opener – Again keep in mind this process will only work if your Device says compatible to apple home on the box – so make sure before purchasing I guess mine is a pre production unit currently the one they offer are compatible with Alexa & google assistant – make sure to check out the links in the description of this video to find the right product for your needs – Now it should prompt you to select the location I will select Garage – Now you can name all three ports to what you want make sure its ease enough for siri to detect & that is it –– Now if you have directly connected it to apple home as shown above then on the Meross App you have to click on the top right + icon to add the garage door opener on the Meross App for your other virtual assistants to access it – Once you do that in few mins all the three garage doors will be added on your Meross APP. Now lets see if the sensors are working before we go out & setup via the garage remote duplicator – So go ahead & plug the sensor kit cable in the desired socket – this time around they have included a nice pluggable pin vs their previous model – Now the sensor cable has two component the blunt wire that is red & black will go in the remote duplicator in my case or if you have a compatible device it will go directly in the garage door opener socket – Second component is the sensor itself which is magnetic – This sensor is the what will let the device know that the garage door is open or close so its very important to test if this works or not before the entire setup.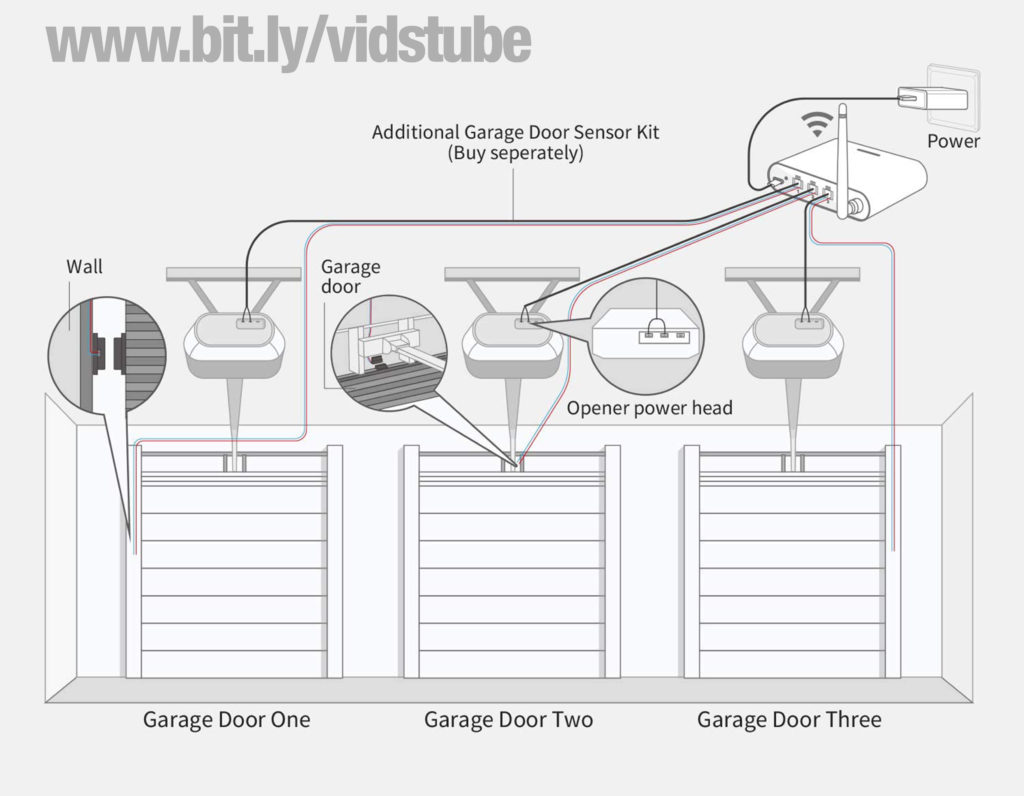 With all that being done let's go ahead & setup this MSG200 device on my garage door opener via the Remote-control duplicator that we talk about earlier during the video. So, first setup the sensor kit I have attached the wired part on the house frame & the Magnetic part on the door itself with the Provided 3M tape make sure to keep them as close as possible for a fail proof setup – now I ran the cable via the ceiling all the way to the garage door opener – this cable goes in the one of the three sockets on the Meross Device which is powered in via the wall adapter – Now if your garage door opener is compatible the cable from the Meross device goes directly in the socket along with the clicker cables on your garage door opener – but since my garage door opener is not compatible the cable from Meross will go in the remote control duplicator which Meross will sent out to you upon request – Now basically what happens is the Meross device will send the signal to this remote cloner to open & close this door – for that to work you have to pair the remote cloner to your garage door by making the remote cloner learn the frequency of your garage door opener just like you would to set up your cars rear view mirror home link system — Now to setup in my case I have to press the Learn button on the garage door opener & within 30 sec of that I have to press the bottom right button on the garage door duplicator & instantly the garage door should open & when you press it again it should close. Now that it has been paired just plug the wires coming out from the Meross device in this remote cloner the order does not matter- One very important point here is that make sure to pair the bottom right button as that is the one that is wired – the rest button are not wired so even if you were to pair those buttons the Meross device will not works – So that its now you can see I can close & open my garage door directly form the Meross app – Now if you have three garage doors which are not compatible then make sure to request three of these Remote garage door duplicators as you will need three of them to be paired to all three garage openers separately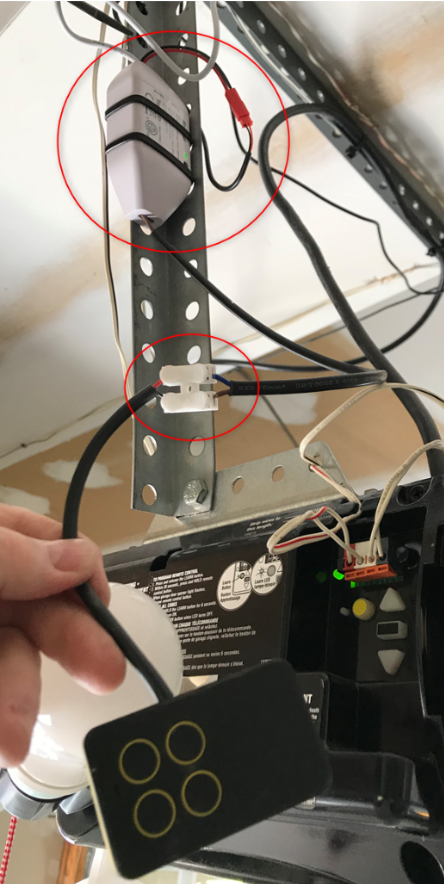 So here is my Final Verdict — this is a great device to have – if you don't have a smart garage door opener as most of the older garage lifts don't have the smart tech in them — even in the newer ones they have a mobile app to control the door but they lack the integration with virtual assistant like the Google assistant, alexa, bixby, siri etc.. The cool part is that I have added my wife & other members on the family list with google assistant, Samsung smart things, alexa so they can control it & I will know who used it at what time. To top it up you can connect up to three garage doors so If you have a big house you are still covered. And as you saw earlier it works great and flawlessly the setup process is relatively simple, quick & tool less– now I can directly command my watch on my way home to open the garage door– I can even set schedule and scenes to automate the process – this is also helpful especially If I want to warm my car up with my remote car starter on a cold morning. I will definitely recommend this Meross Smart garage door opener as its very functional, the price is affordable, the installation process as shown above is pretty easy & self explanatory, its widely compatible with most of the virtual assistant & the mobile app is very versatile. So, if you are looking for a smart garage door opener your search ends here with this Meross Smart Garage door opener
Here is the USER MANUAL for the Garage door remote duplicator – LINK
▶️ LINK TO THE PRODUCT ON MEROSS WEBSITE : LINK
▶️CHECK OUT DEALS ON MEROSS SMARTHOME PRODUCTS ON AMAZON : LINK
▶️Meross Smart Wifi Garage Door Opener: LINK
▶️meross Smart Dimmer Switch, Smart Light Switch for Dimmable LED Light, Halogen and Incandescent Bulb, Supports with Alexa, Google Assistant and SmartThings, Remote Control and Voice Control: LINK
▶️meross WiFi Smart Plug Mini, Alexa and Google Voice Control, App Control Appliances, SmartThings, Timer Function, Occupies Only One Socket, No Hub Needed, FCC and ETL Complied – 2 Pack: LINK
▶️meross Smart Power Strip, Wi-Fi Surge Protector, Alexa, Google Home, SmartThings & IFTTT Supported, Remote Control, with 3 AC Outlets and 4 USB Ports: LINK
▶️meross Apple HomeKit Smart Outdoor Plug, Waterproof WiFi Outdoor Outlet, Compatible with Amazon Alexa, Google Assistant and SmartThings, Remote Control, Timer, FCC and ETL Certified : LINK