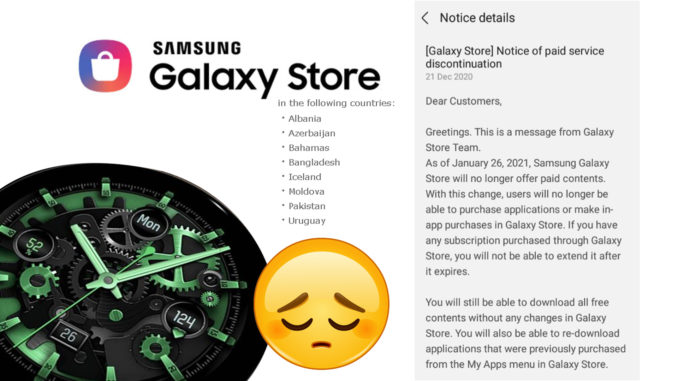 Samsung is now officially disallowing all kinds of paid content on the Galaxy Store in selected few countries as of January 26, 2021 (Korea Standard Time) in the following list of countries:
1. Albania
2. Azerbaijan
3. Bahamas
4. Bangladesh
5. Iceland
6. Moldova
7. Pakistan
8. Uruguay
"As of January 26, 2021 (Korea Standard Time), Galaxy Store & Themes will no longer offer paid contents and in-app purchase items…As a result, you no longer can distribute paid contents/applications or in-app purchase items in these countries.
We will automatically exclude aforementioned countries from the list of countries where you distribute paid applications or in-app purchase contents. Please note that you can continue to distribute free applications in these countries."
There will be only free apps in these selected countries on the proprietary app store that comes pre installed on every Samsung smartphone, this implies to the in-app purchase items & the entire galaxy themes.
Please be mindful that if you have made any sort of purchase you can still re download it from My Apps Section in the galaxy store. The rational behind this bold move by Samsung at this point is unclear.
From a user's perspective this would not make a major impact but developer may end up taking down the paid apps and instead put them on google play store instead of simply making them free. This also means that users in these countries cannot buy or use coupons codes for the paid watch face giveaways that we host on our YouTube channel or on other youtubers channel.
Either way I think form a users perspective they will now see only the free apps, themes & watchfaces but I am not user if this means that all the fonts will be free, I atleast hope that paid content offered by Samsung will be now free on the galaxy store. But by no means Samsung will convert all the paid content free instead the paid content will be removed until the developer offers it for free.
So here is my take away from this for all the users. If you like certain apps, themes or watchfaces just go ahead & purchase it now so that you will be able to download them later after the changes have been applied or else those paid apps & content that you will see on the internet will be a rare find for users in those countries.
You can check out the entire youtube playlist that I have linked under this article for some amazing paid watchfaces, apps & games from the galaxy store as that will help you to narrow down what to purchase before the changes have been applied. Please comment down bellow what are your thoughts about this move.
Here are some sellers FAQ's
Q: Will I receive a full settlement of revenue from 8 countries mentioned above?
A: Yes, the payment will be processed as per our regular schedule.
Q: Am I liable for refund requests from customers 8 countries mentioned above due to this change?
A: No, there's no legal liability to refund customers from this service change.
Q: Do I have to remove these countries from the app distribution list in the Seller Portal?
A: No, paid contents will automatically be removed from Galaxy Store in these countries.
Source: Link