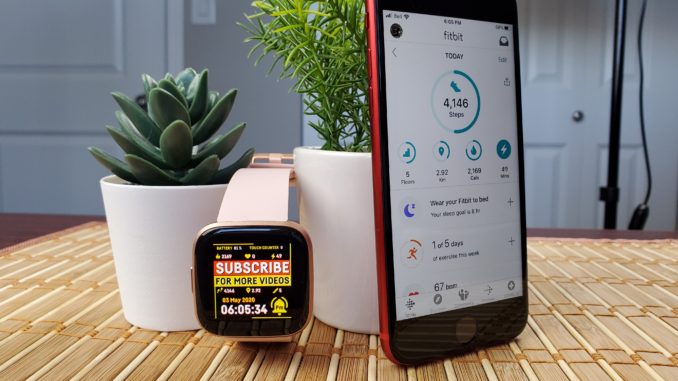 Hello everyone, if you ended up on my page thanks for visiting my site.
I am gonna solve the fitbit versa sync & notification issue on your watch now, keep reading.
Let me start with how fitbit versa communicates with your phone, there are two methods primarily by Bluetooth and secondarily by WiFi for music transfer & controls. So you need to make sure your Bluetooth and WiFi is on as if accidentally its off your watch ain't gonna connect. You can do this on your phone to make sure your Bluetooth is on and your watch is connected. Now on the fitbit app you can find the WiFi setup option and make sure its connected to the same network that your phone is connected. Once you have done this your watch should work.
If not check the notifications are turned on, on your watch you can do this by long pressing the left side button on your versa. You also want to make sure all day sync is turned on, on your watch. If for some reason its still not working you can try a test call from your smartphone fitbit app, if you don't get a test call you can turn the call option off, wait for 10 sec & turn it on, then try test call it should work. If for some reason with bad luck, all of above is not working then restart your phone and watch and follow all the above steps again and I am pretty sure it will work.
I hope you found this article helpful. Watch the video attached at the end. You can also subscribe to our channel so you don't miss any videos about versa.
Leave a comment if you have any questions.
GET AMAZING DEALS ON AMAZON FOR FITBIT VERSA
fit bit versa smartwatch : https://amzn.to/2QfDoeh
fit bit versa screen protector : https://amzn.to/2wWPyjj
fit bit versa classic bands : https://amzn.to/2wVl1m0
fit bit versa charging brick : https://amzn.to/2NtZvz7
Bellow are the three videos we posted on our YouTube channel a while back to solve the notification issues on Fit bit Versa, Versa lite edition, Versa 2, Versa special edition. Check them out for more details.